Dental Implants – Addison, NY
New Teeth That Feel Just Like Your Old Ones
There's more to your smile than meets the eye. Every tooth has hidden roots that are embedded in your jawbone, which help the tooth properly function. Since dental bridges and dentures don't replace these tooth roots, they just don't quite work like your natural teeth. Dental implants, on the other hand, bring back the root structure, allowing your replacement teeth to feel and function just like your old ones. Our dental team at Addison Family Dentistry can handle the whole dental implant process under one roof; call us today to book your consultation to discuss tooth replacement with dental implants in Addison, NY.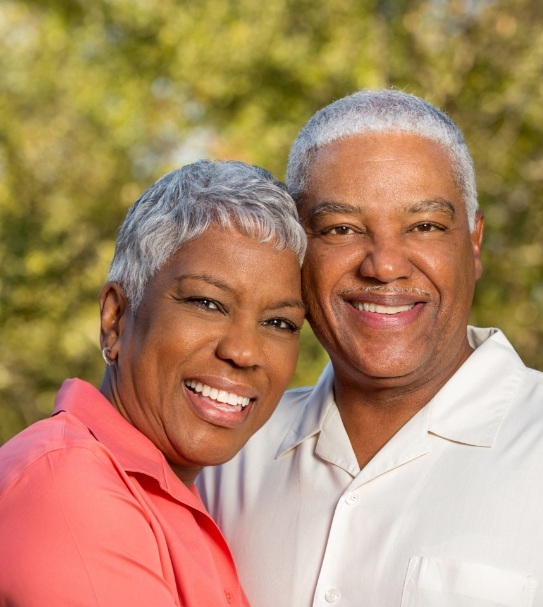 Why Choose Addison Family Dentistry for Dental Implants?
Entire Dental Implant Process Performed In-House
CBCT Scanner for Expert Treatment Planning
Bone Grafting Offered for Patients with Jawbone Loss
What Are Dental Implants?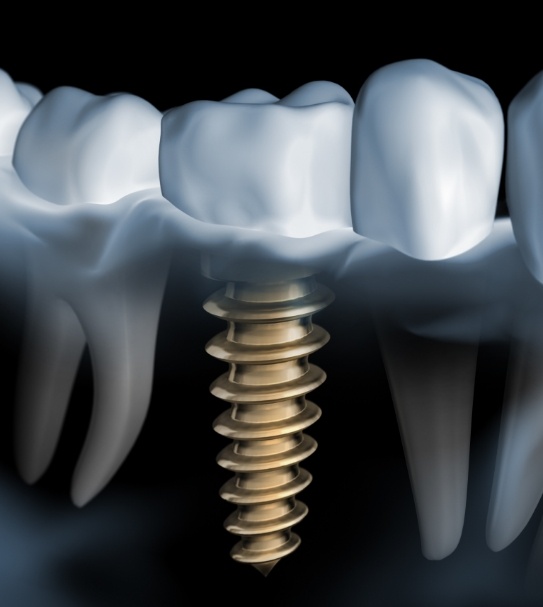 Dental implants are small, screw-shaped posts that are meant to serve as the roots of your new pearly whites. They're usually made from titanium, zirconia, or ceramic, which allows them to merge with the bone tissue in your jaw after we have surgically placed them there. Not only does this bond allow the implants to support any number of prosthetic replacement teeth, but it also keeps your jawbone from breaking down – something that normally occurs after tooth loss.
The 4-Step Dental Implant Process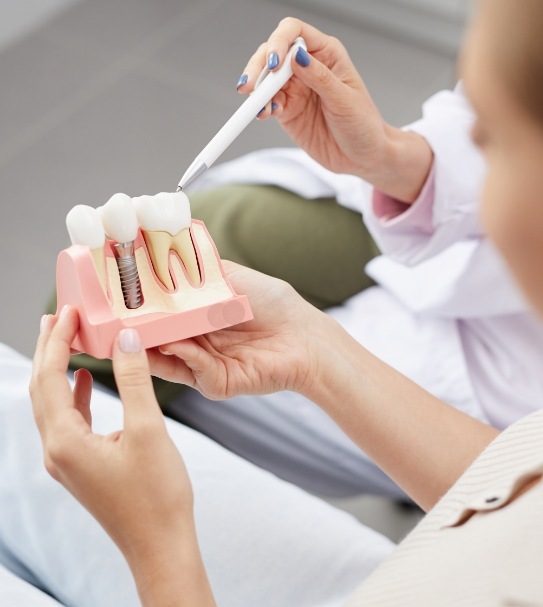 Consultation – You'll meet with our dentists, who will capture digital images of your mouth and jaw to determine your candidacy for implants. Then, we'll walk you through the treatment process, including any preliminary procedures you may need, such as tooth extractions followed by bone grafts.
Dental implant surgery – As a Fellow of the International Congress of Oral Implantologists, Dr. Roman can handle the surgical placement of your implants right here in our dental office.
Osseointegration and abutment placement – Your jawbone will grow attached to the implants over the next several months, after which we can secure tiny metal connectors called abutments on top of the posts.
Delivery of final restoration(s) – Lastly, we place your customized dental crown, bridge, or denture onto your abutments to recreate your original smile.
Benefits of Dental Implants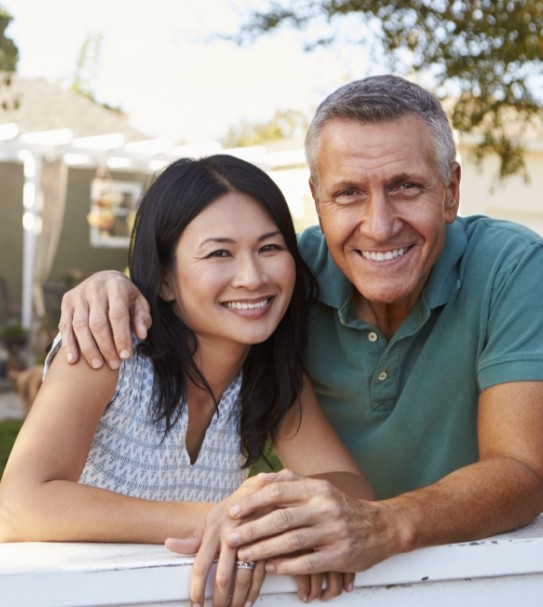 As the only tooth replacement that rebuilds the whole structure of your teeth, dental implants have so many benefits to offer, several of which you can't get with traditional dentures and bridges. For example:
The implant posts provide your jawbone with the blood flow it needs to stay strong and healthy.
Your new teeth look and feel just like your natural ones, and they'll always stay in place no matter what you're eating.
Implants can potentially last for a lifetime if you take good care of them.
Who Dental Implants Can Help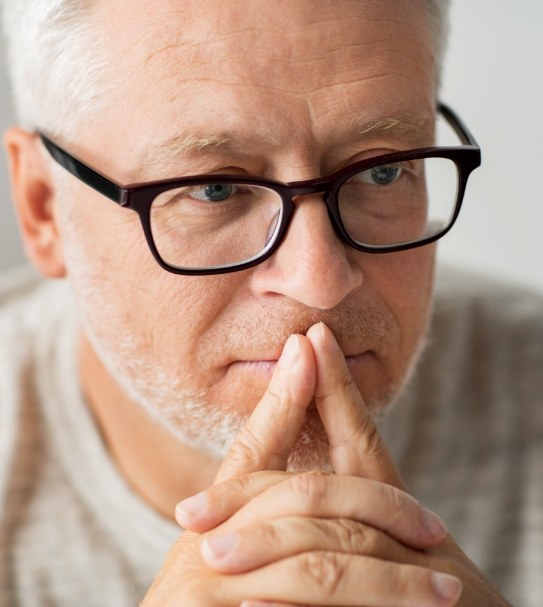 As long as you're an adult who is generally in good oral and overall health, then your chances of qualifying for dental implants are high. You'll also need to have enough density in your jawbone to support the implant posts. In many cases, our team can perform the procedures necessary to help you meet these qualifications. At that point, we can begin designing your treatment based on the number of teeth you're missing.
Missing One Tooth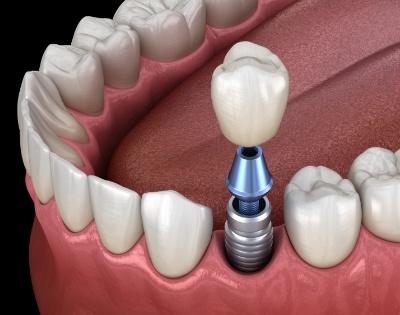 Instead of relying on two of your healthy teeth for stability like a dental bridge, a single dental implant post with a crown can be positioned between two teeth without disturbing them in the slightest. This solution seamlessly fills the empty space while leaving the rest of your natural smile intact.
Missing Multiple Teeth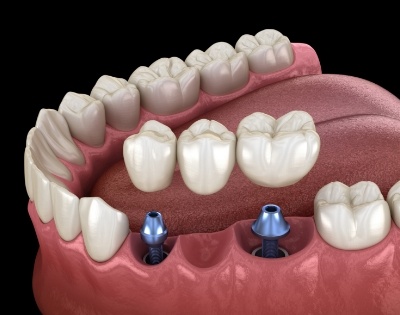 Whether you have several missing teeth in a row or at various locations in your mouth, we have options to complete your smile. These include securing a dental bridge or a partial denture onto dental implants rather than your natural teeth – a more reliable and conservative version of these prosthetics.
Missing All Teeth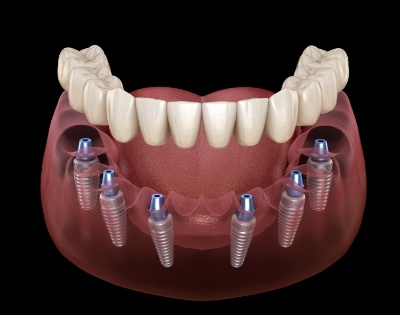 Even if all of the teeth on an arch are gone, we can bring them back with as few as four to six implants. By strategically positioning them throughout your jaw, we can create ample support for a full denture that never slips around, making it a breeze to smile confidently and eat your favorite foods.
Understanding the Cost of Dental Implants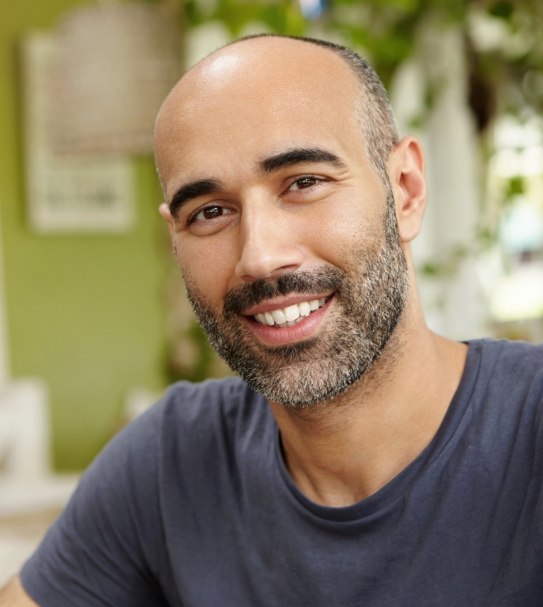 Each dental implant treatment is as unique as the smile it's rebuilding, and that's why we can't give you an accurate cost estimate unless and until we've looked over the specifics involved in your treatment. The cost of dental implants can vary significantly based on a wide array of factors, such as the number of implants you need and the materials they're made from. It's worth mentioning that even if dental implants seem pricey at first, their impressively long lifespan makes them an investment that, in the long run, pays for itself many times over.